Cats are my passion and MeowPrints celebrates my love for them.
Ever since I can remember, I have loved cats. When I was small, I spent time at my gramma's farm and I would go out to the wood shed to play with the kitties. They were wild, like most farm cats, and they ran from most everyone. If I sat real still they would come out from behind the wood and snuggle up to me. We had an instant connection. One touch of their soft fur and a snuggle accompanied with a purr and I was hooked for life.
I learned early on that cats are a source of comfort. Their unconditional love and their understanding look; they are always there whenever you need them. Any sadness just melts away. Their playful antics of mastering "tiger in the grass" or stalking anything and everything that moves, (or even some things that don't), will bring hours of joyful entertainment and laughter. You can feel your stress level drop tenfold.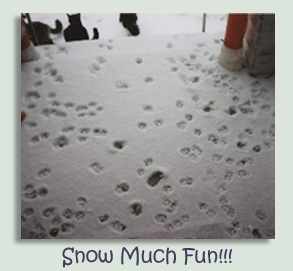 Today, I have 5 cats & 3 rescued baby kittens and they all are definitely my babies. They are an important part of my family. As I am sure your kitties are part of yours. Visit their page to get a closer look at the fur babies who steal my heart.
MeowPrints was created to celebrate cats from all walks of life. We strive to make this a fun, informative place for you to laugh, learn, share pictures and stories of your own kitties and find unique gifts for yourself and your friends.
Our goal at MeowPrints is to provide you with a fun environment for learning and sharing about fabulous felines. It is our utmost desire to bring you quality, unique merchandise to celebrate your own love for these majestic animals.

Join me in sharing stories about your favorite felines in our forum, The Scratching Post. Make it your own, visit often and post memories, quotes and tidbits about your beloved furry friends. Be sure to share pictures in the Gallery; I want to see all the special fur babies out there. Shop the Cat-tique, where we feature unique gifts from around the world for cat lovers and their kitties. Here you will also find the essentials to create keepsake memories of you and your special friends.
Grow with us as we evolve from our humble beginnings to a world known website that caters to the needs of all cat lovers and their kitties. In the future, we will be adding rescue and adoption to our services in hope of bettering the lives of less fortunate kitties. All cats deserve to know love and be cuddled, to be warm and have a full belly. When this project is launched, you will have the opportunity to sponsor a wayward kitty and make a difference in their life.

Thank you so much for visiting, come back often, be involved and make yourself at home. This is your site. We look forward to getting to know all of you. Please feel free to contact me with questions or comments at msmeow@meowprints.com